Official Blog of SIPSS-GLOBAL, The IT System Integration company, Having its Corporate Office in Mysore and spread across 3 South Indian States, Believes in delivering End to End IT solutions with a strong Back-bone of un-compromised support delivery. Find More Information About us by Browsing www.sipssglobal.com. This Blog dedicated to press the major public happening about the organization and the technology updates.
Wednesday, 1 May 2013
SIPSS-GLOBAL Introducing a special program for Non Goverment / Non - Profit / Social Service Organization to improve their efficiency and reach with an effective usage of Information technology solutions, Wide offerings are made ready to address the Organizations, Through this program SIPSS-GLOBAL is trying to help the organizations with the available technology solutions that can be adopted at very minimal setup cost- such as Email and Collaboration system. The wide Online Solution portfolio of SIPSS-GLOBAL will make available to the actual users at no cost. Do write to info@sipssglobal.com or click on the below image for obtaining more information about the program and get avail this opportunity.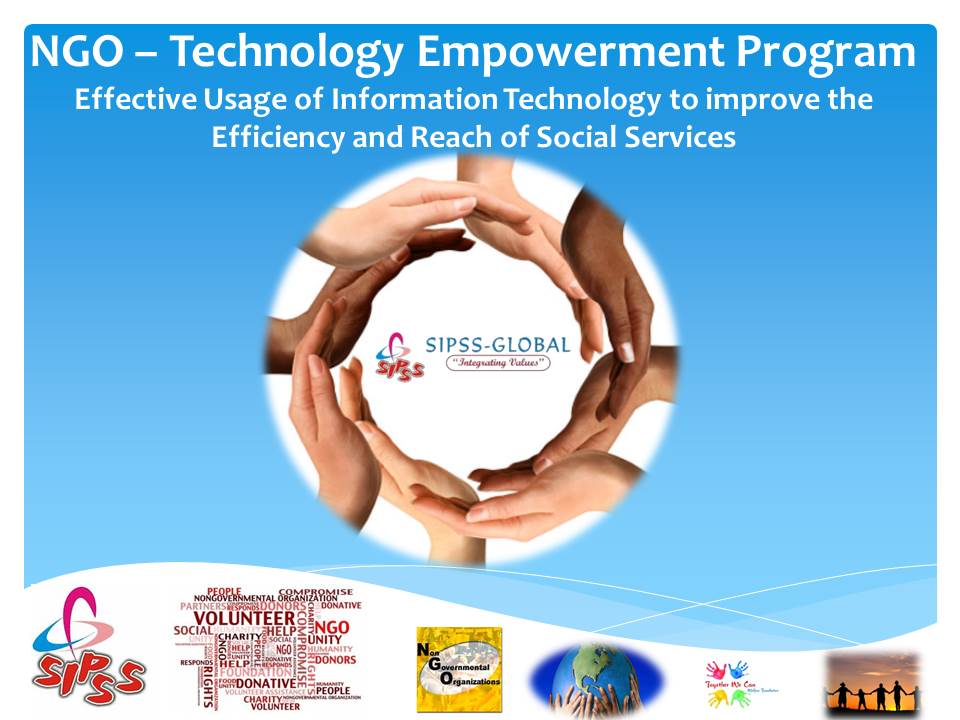 We've all become accustomed to the PC model, which allows every user to have their own CPU, hard disk, and memory to run their applications. But personal computers have now become so powerful that most people can't possibly use all the processing power they purchase. NComputing desktop virtualization is a modern take on the time-honored concept where multiple
users share the processing power of a single computer. This approach has several advantages over the traditional PC model, including lower overall costs, better energy efficiency, and simplified administration.
Introduction
Over the past 30 years, PCs have changed the way we work, play, learn, and think about computer technology. From the first single-chip microprocessor in 1971 to the latest multi-core CPUs powering today's PCs, users have come to rely upon owning and controlling their own processing power. In large part, the PC became successful because it took the processing power out of the data center and placed it directly on our desktops. But with that desktop power and control also came responsibility— the responsibility to maintain, troubleshoot, and upgrade the PC when needed. After all, the PC is a machine and all machines need regular care. As PC buyers and users, we may have welcomed the capabilities and productivity increases the PC brought, but no one warned us that even with help from a dedicated IT department, we'd have to spend over 17 hours annually maintaining our own PCs. (That annual maintenance number is more like 60 hours if you act as your own IT department.)
Click on the Below Image to Download the Whitepaper